Stacking the Shelves / Sunday Post #20
12:00 AM
The Sunday Post is a meme hosted by

Kimba the Caffeinated Book Reviewer.

Stacking The Shelves is hosted by Tynga's Reviews. Both are

a chance to share News. A post to recap the past week, showcase

books and things we have received and talk about what is coming up for the week on our blog. Link up each week. I will be doing Weekly Recap, What books I got that week, and a sneak peek of what to expect for the next week on my blog.
Something Like Normal
I really liked Hush Hush and was excited when I saw this book was in the library already. I might read this one first. Gotta have more Patch in my life.
I've Got Your Number
I love Sophie's books so I'm finally getting around to reading her new book. It'll be the first adult fiction that I've read in a while.
WEEKLY RECAP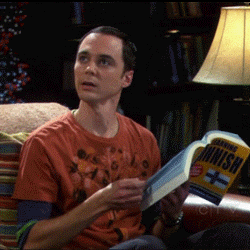 This week has been a roller coaster, but the doctors FINALLY figured out what's wrong with me and I'm on antibiotic now so hopefully I feel better before Christmas! Being sick has given me a chance to do some great reading and blogging this week though. I finished The Maze Runner, Perks of Being A Wallflower, and Nobody's Damsel. My twitter friend Jenna stopped by for a guest review of Dash & Lily's Book of Dares! I also did a post asking for help on if I should read books that I don't like their covers (Click the Pic of Sheldon from Big Bang Theory to help me out).
Dec 21 from 12-7 am we had CRAZY 50 mph winds that knocked out the power in some places. I hadn't believed the world was going to end, but during that random storm I was kinda nervous not gonna lie lol. But I'm so glad the world didn't end because I have so many books I still want to read! Hope everyone has a great Christmas and New Year!