June Wrap Up & Seriously Series Update
12:00 AM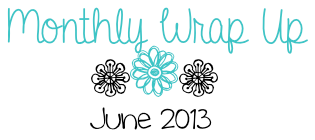 Picture from June:
(my first ever Document Your Life!)
Posts:
The Literary Dating Game
Quiz
Reivew&Recipe
(Unravel Me & Coconut Cookies--gluten free)
YA Heroines Then & Now
Vlog
It's My Birthday & other Updates
!!!
Reviews:
All I Need by Susane Colasanti (2 Stars)
Every Little Piece by Kate Ashton (5 Stars)
Beautiful Stranger by Lauren Kate (5 Stars)
Breaking Point by Kristen Simmons (3 Stars) --VLOG
Heartbeat by Elizabeth Scott (1 Star)
Books Read But Not Reviewed:
Reread Harry Potter #3
How Zoe Made Her Life (Mostly Come True)
Furious
Parallel
The Hazards of Skinny Dipping
How My Summer Went Up in Flames
Shark Bait
The 5th Wave
Walking Disaster
What happened this month?
1. I turned 24!
2. First book of the month google hangout with the Book BFFS!
We talked about The 5th Wave and other bookish stuff.
3. Made a book jar
4. My life was boring this month =/
Seriously Series Update:
As of June I have only completed one series, Unearthly, but I have read a lot of sequels for series that aren't all out yet. So that's progress. When I signed up for this challenge I read the directions wrong. I didn't realize the goal was to finish the series. So I had been counting books in series that I was finishing, but now that I realized my mistake I updated everything.
Favorite quote from a book I read in June?